Med fridag 1. mai, og skolefri 2. mai dro vi like godt på langtur nordover. Det var langt å kjøre, men vi hadde nydelig vær både på turen oppover og under oppholdet sådet var en flott opplevelse.

Solnedgang med nesten midnattsol
(det er for tidlig på våren til det...) ca kl 21.30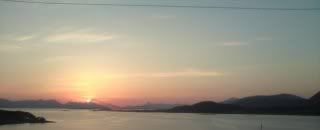 Vi besøkte Vesterålen, og benyttet anledningen til et besøk i Svolvær også. Hjemover kjørte vi den nye
Lofast-forbindelsen
. Mange tunneler, men du verden så vakker natur. Da vi skulle kjøre over Raftsundbrua kom sørgående hurtigrute forbi. Her er den på vei inn Raftsundet.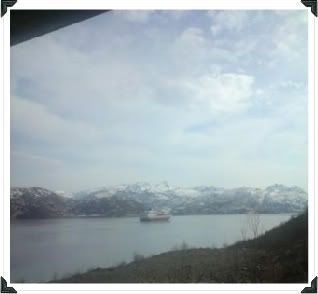 Aldri en tur uten shopping ;-)! I Svolvær kom jeg over en flott butikk (som jeg ikke husker navnet på) og der hadde de bl. a glassmykker og glassengler laget av en kunstner fra Kabelvåg. Jeg forlot butikken men følgende investeringer:
We have been up north in Norway this weekend. Visiting both Lofoten and Vesterålen. It's to early for the midnight sun, but it's almost there. And you can't leave without seeing Hurtigruten.
The angels and the heart is handmade art from an artist in Kabelvåg (Lofoten).