Jeg har hatt ferie i 1 1/2 uke og har like mye igjen :-)! Har hatt deilige dager nord i landet, med sol nesten hver dag! Jeg har fått lest en del, hele tre bøker faktisk! "Snømannen" av Nesbø, "Unntaket" av Jungesen (dansk forfatter) og "Kompani Orheim" av Renberg. Anbefaler alle på det varmeste!!
Jeg har også fått tid til litt strikking :-)! To vinvesker har sett dagens lys og en klut (som ble igjen til vertskapet).
Sommerøl passer utmerket sammen med strikking :-)!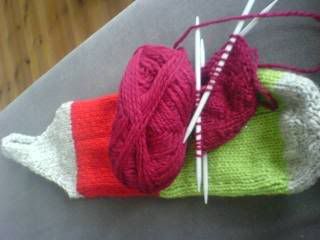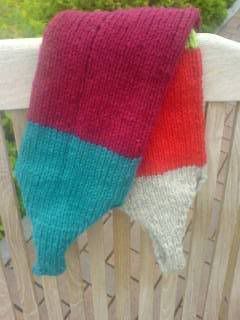 To vinvesker klare til toving!
Vi var mye ute, og med flott turterreng like utenfor døra ble det tid til litt mer enn sløving i solveggen. En aldri så liten matauk :-)! Deilige blåbær...